Inclement Weather is 1 of the Top 5 Common Causes of Trucking Accidents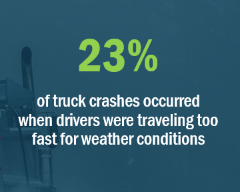 Driving faster than the posted speed limit is not the only speeding problem facing fleets. Driving too fast for road or weather conditions, which can change rapidly and unexpectedly, accounts for 23% of truck crashes. Additionally, the severity and cost of collisions significantly increase in adverse weather conditions, often resulting in nuclear verdicts.
SmartSense for Speeding for Conditions addresses these challenges by:
Measuring vehicle speed vs. a recommended, or fleet-specified, standard for safe driving in inclement weather conditions

Providing real-time data to assess the severity of driving too fast for conditions – particularly in fog, rain or snow

Alerting drivers of the risks within minutes and recommending the appropriate speed for the conditions
Sign up for a free demo.