Truck Parking Ranks #5 As One of the Top Issues Facing the Industry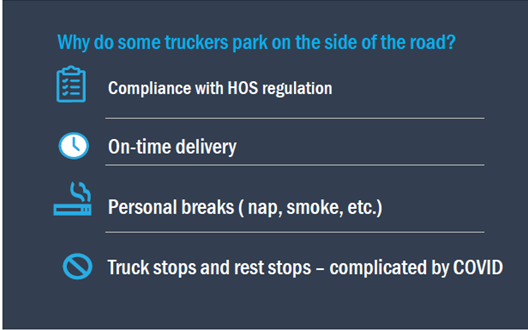 Lack of available truck parking is one of the top issues facing the industry, which can result in "sitting duck" situations – trucks parked in locations that put drivers and the motoring public at risk.
"Many times, drivers find themselves in circumstances where they need mechanical assistance or need to stop in a heavily-traveled area. SmartSense for Sitting Duck technology helps us protect our drivers by alerting management that they may need help. We can then quickly advise our driver on how to handle the situation and, if necessary, provide support – or send assistance – and get them back on the road safely." – Brett Sant, SVP Safety & Risk Management, Knight-Swift Transportation
SmartSense for Sitting Duck:
Detects and reports vehicles that have stopped, parked, or stalled in a potentially hazardous location

Provides real-time data to assess the severity of the incident so immediate, corrective action can be taken

Delivers video insight into why the driver is stopped or parked in an unauthorized area
Learn more about Sitting Duck.
Sign up for a free demo.